There's performance, then there's power packed performance. Experience the thrill of power with our BOLT DRIVE.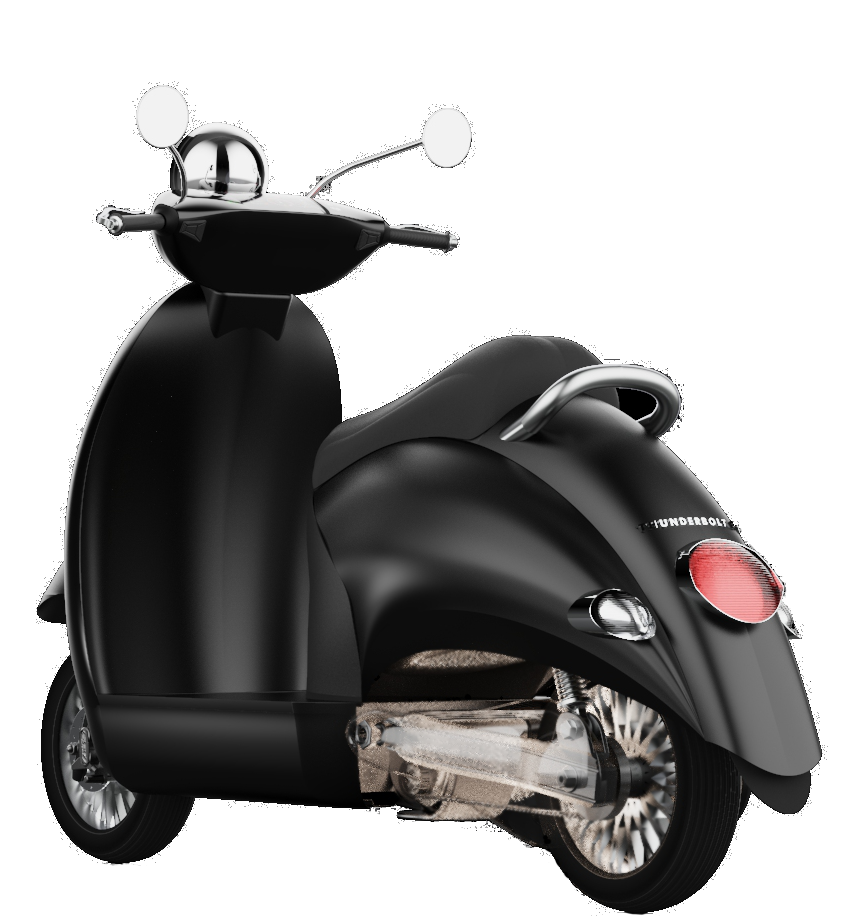 THE PERPETUAL
SELF- CHARGE GENERATION
Charging your journey further by churning energy from every bumps and turns. Riders be alert! Enhanced in speed, performance and riding mechanics, Thunderbolt will electrify you to the core.
Conceptualized from Spacecraft Body Structures, our Spaceframe Chassis is engineered to provide superior strength while being extremely light weighted.
With the Retro-inspired design intertwined with state-of-the-art technology, Thunderbolt-E1 is the smartest electric scooter out there which is ergonomically designed and packed with indigenous features for lightning up your day.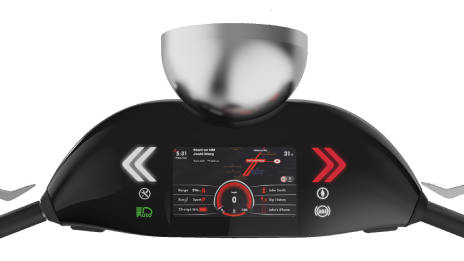 Finished in Mirror black, an edge to edge front fascia with an Integrated Smart Screen.
SAY GOOD-BYE
TO BLIND SPOTS
Make your nights as clear as day through our Adaptive LED Headlights, which are tuned to light up the key points across the road. It also intuitively reduces glare against oncoming traffic.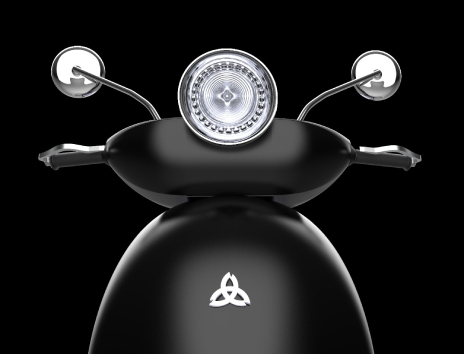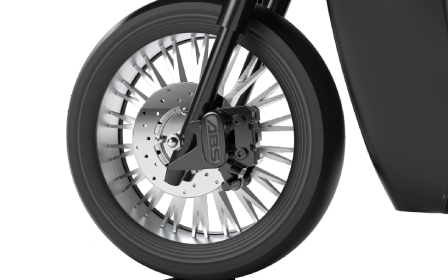 REGENERATIVE BRAKING WITH ABS
RIDE SAFER,
GROOVE HARDER
No more slips and slides. The Regenerative Braking System with ABS assures that you stop on point every time by keeping your ride smooth, no matter how rocky it gets.
COMFORT AND
SPORT ENTWINED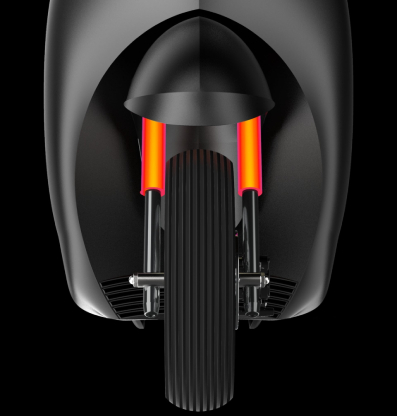 Dual Front Telescopic Fork coupled with Dual Rear Coil Springs tuned to ensure the smoothest of rides over the bumpiest of roads.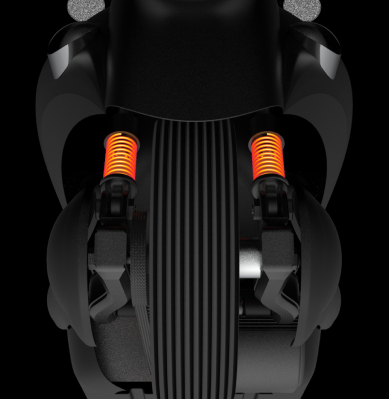 ADJUSTABLE REAR SUSPENSION


SUSPENSIONS
Front telescopic / Adjustable rear coil spring

LIGHTS
All LED smart lights

BOOT SPACE
30 L (Fits 2 full Face helmet)

CHARGING SYSTEM
Self charge generation and Inbuilt charger
OTHER FEATURES
Adjustable seat height


ACCELERATION
0-60Kmph @ 4sec

FRAME
Tubular Spaceframe Structure

BRAKE SYSTEM
ABS with traction control

DASHBOARD
Infinity dashboard with LCD touch screen

LOCK AND UNLOCK
Smart keycard, keys, Smart phone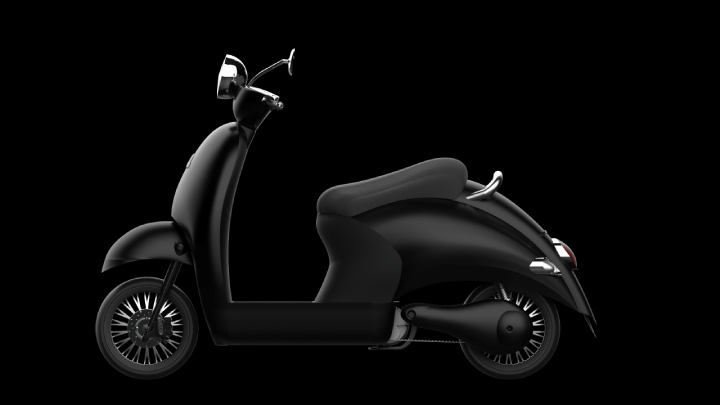 The Best Electric Scooter In India -
The Thunderbolt E1
Make a switch to sustainable transportation
Progress never stops and transforms the future. And Viomo Motors has taken the giant steps towards a future where sustainable transportation will be commonplace by inventing a smart electric scooter which is a game-changer in the electric vehicles segment in India. The aim was to break the shackles of the past and come up with something breathtaking which is supreme in design as well as performance and Thunderbolt electric scooter scores in both the aspects.
Driving is an experience whether it is a luxurious four-wheeler or an affordable two-wheeler. The thought process why can't it be the same for an electric scooter in India? There, the seeds were sown and today it has resulted in the creation of a powerful, experience-driven electric scooter which is the pride for the EVs industry in India.
While the world recognizes electric automobile as the future of transport and a mobility revolution, several challenges have plagued the Indian market to grow in this direction. This includes insufficient riding range and speed desired by the customer when compared to vehicles powered by fossil fuel. Lack of proper infrastructure facilities for charging and the long charging time for electric vehicles has made customers living in multi-storey apartments to go for other options.
New Electric Scooter -
For the Indians, By the Indians
With Make in India initiative and push towards self-reliant India, we are proud to say that Vioma Motors is founded by the Indian.
– The vision captured our imagination long back when we began the journey and we have always worked towards making an electric scooter listening to the needs of Indian people and their desires.

– With a sole passion to make India a global superpower and economic powerhouse, the entire technical, design as well as management team has worked on Thunderbolt E1.

– With the right blend of futuristic technology, manufacturing plants, indigenous components and unique Indian style, the electric scooter is surely a major step towards that direction as well.

– We aim to go global where other countries from the world can look towards us and our electric scooter range for inspiration, with advanced technology and high-end innovations.
A
Smart Electric Scooter

By All Means
Smart technology is the common refrain or the buzz word of the current age. And Vioma Motors has successfully developed a smart electric scooter as per the aspirations of the generation. What makes it smart? Well, to begin with,
– Thunderbolt E1 consists of special features like touchscreen for navigation, ride style monitoring, 4G, Wi-Fi, Bluetooth and OTA.

– The Auto SOS and fall detection make it more sophisticated and takes it a step ahead than its competitors by a large margin.

– What' s more, advanced diagnostics and emergency power mode are distinct features which makes the smart electric scooter go on and on without interruption.

– The other features like ABS and regenerative braking system assure no slips and slides even in difficult terrains.
Thunderbolt is the first-ever self charging electric scooter in India which gets charged on its own while one rides.
Since the concept of electric vehicles took centre stage in India, there are several challenges and hurdles which have pegged back the effort made in this direction. One of the main reasons which prevented customers and businesses to promote electric scooters was the lack of charging infrastructure in Indian market. People living in apartments could not charge their vehicles. The detachable battery pack with a retractable trolley and portable charger gives a great advantage of carrying it anywhere and everywhere for charging purpose, hence solving the charging problem once and for all.
– When it comes to the design aspect, the retro-inspired look is a winner and makes it a thing of envy for others. The ergonomic design makes it comfortable for long drives. Technically, the electric scooter is super light as well as have superior strength.

– The body structure engineered with monocoque chassis and panel truss structure is extremely precise and makes it suitable for any kind of drive. The complete features, when combined, make it elegantly futuristic and awe-inspiring, to say the least.

– The roads in India are, well not so smooth and it is the part and parcel of our lives. But it demands an electric scooter like Thunderbolt E1 to make it a great driving journey. Therefore, the dual front telescopic fork coupled with dual rear coil springs turn driving smooth and easy.

– Huge traffic and a large number of vehicles has always been a distraction for the two-wheeler rider in Indian roads. Also, there are a large number of accidents that occur due to the creation of blind spots in road. Thus, a huge number of lives are lost due to fatal accidents in India every year. The adaptive headlamps of Thunderbolt E1 greatly reduce the glare created by oncoming traffic. Moreover, it helps to give you a clear vision even at nights and lights up key points to avoid blind spots. This is a great way to prevent accidents. This makes it the best electric scooter in India.

One can use the electric scooter for daily travelling. It is going to be an envy for others when you take it to your office. Be it your college or school, it will make jaws drop.

– Long-distance travel to the house of your relative will be smooth and safe. One can maximize the comfort by feeling the sweet breeze across your faces and never doubting the performance of this special vehicle.

There is enough boot space with 30 L, inbuilt charger and chargepod as well. The LED smart lights are quite ambient and useful. The smart keycard, keys and smart phone for lock and unlock are some of the other distinguishing features of the electric scooter Thunderbolt.